The English Premier League's Director of Communications Dan Johnson has told the BBC that they intend to crack down on unauthorized sharing on goal footage from soccer games. "You can understand that fans see something, they can capture it, they can share it," Johnson said. "But ultimately it is against the law."

"I know it sounds as if we're killjoys but we have to protect our intellectual property."
The real question is: will they come for our gifs next?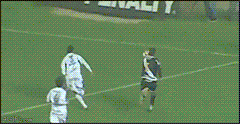 'Sherlock' will be coming to Christmas in 2015.
Say what you like about Sherlock, but that show really does know how to work with its audience.
On Tuesday afternoon, BBC One posted a couple of cryptic tweets tagged #221back (a reference to Sherlock's address, 221B Baker Street), and that was enough to send Sherlockians into a flurry of excitement. What could it all mean?