OK Batman fans, prepare yourselves: Jena Malone may be playing Robin in the upcomingBatman V Superman: Dawn of Justice.
Jena Malone, known best for her role as Johanna Mason in The Hunger Games, could be the first female Robin to hit the silver screen. Malone has been seen on the WB set sporting a new red hairdo, which may allude to a Carrie Kelley cameo.
She also posted an image of her fiery locks on her Instagram page.
When Julia Marchese began working on Out of Print in 2012, chronicling the history of the New Beverly Cinema, she didn't know the film would eulogize her own eight-year employment at the theater upon its release. In the doc, Marchese speaks of her fondness for the New Bev in the present tense.
"I want the New Beverly to be around for another 20 years, or another 30 years," she says.
The theater might be around, but Marchese won't be a part of it. Following Quentin Tarantino's takeover of the management at the New Beverly on October 1st, Marchese was given a promotion from her previously held hourly-wage position—which had required everything from working concessions to locking down a programming block from Edgar Wright—and given a salaried job as a manager at the theater. Marchese's new position lasted all of two weeks, however, before, according to her, the general manager and Tarantino's longtime personal assistant, Julie McLean, notified her that she wasn't management material. McLean offered Marchese her previous hourly job at the concession stand as consolation, sans any guaranteed hours.
Marchese took to her blog to vent about the new management, citing issues with censorship and a lack of communication and claiming that her last words to McLean were "you're going to turn this place into a fucking multiplex, and it's a goddamn drag." She wrote in the post that she'd intended on screening Out of Print at the New Beverly, on a 35mm print, but has now opted to release the film on Vimeo for free.
Move over, Tupac hologram.
Japanese pop and anime sensation Hatsune Miku hit mainstream Americana Wednesday, performing "Sharing the World" on The Late Show With David Letterman.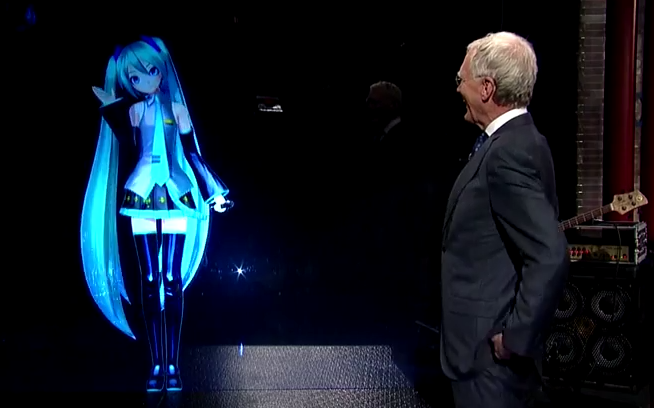 Tom and Jerry cartoons on Amazon Prime Instant Video now have a new disclaimer about racism.
The BBC first noticed the disclaimer on the classic cartoons, some created more than 70 years ago, on the menu for Tom and Jerry: The Complete Second Volume. Instead of omitting episodes that contained content of a racist nature, Warner Bros. put in the disclaimer instead, for censoring would be a revisionist maneuver.
"Tom & Jerry shorts may depict some ethnic and racial prejudices that were once commonplace in American society. Such depictions were wrong then and are wrong today. While the following does not represent the Warner Bros. view of today's society, these cartoons are being presented as they were originally created, because to do otherwise would be the same as claiming that these prejudices never existed."
The latest version of GLAAD's Network Responsibility Index focused on 15 networks that produced content during the 2013-2014 programming year—and for the first time in the report's history, three different networks earned "Excellent" ratings for their commitment to diversity.
HBO, ABC Family, and MTV are all leading the pack in satisfying increasing consumer demand for diverse media content.
And Fox became the highest-scoring network in television history, with 42 percent of its programming hours featuring positive LGBTQ representations. 
But now that this goalpost has been reached, GLAAD is upping its standards. Next year, in order to receive an "Excellent" rating, networks must feature "significant transgender content"—a move the organization is making in direct response to the overall lack of representation of trans characters, something this year's report focused on significantly.